Tanzania walking safaris are undoubtedly very rewarding experiences in Africa. It is explained as the best way to discover Africa on foot. This is because of its vast Un-spoilt wilderness areas thrilled with large concentrations of wildlife and awe-inspiring scenery. Imagine enjoying a walking safari led by a professional guide while staying in camps situated in ideal locations, forming the perfect base to explore the surrounding areas on nature walks. Superb guides include local Maasai, introducing you to some of the real treasures of the African jungle like Empakai Crater.
and Lake Natron, You will visit several Maasai Villages like Bulati, Nainokanoka and Naiyobi. You will spend you time in Kamakia, where you will have chance to take shower on the Ngarasero river.
Walking safaris are a wonderful adventure, designed especially for those who love walking. A good amount of conventional game viewing in vehicles is also included, but the highlights of Tanzania walking safari are the intimate moments you'll experience in Tanzania's very remote back country on foot.
The most spectacular itineraries are those that include Ngorongoro crater rim walk. Mostly, it starts with a drive to the enchanted Ngorongoro Crater with its truly amazing scenery. You will then continue round the rim, where a crew of guides, a ranger, Maasai and donkeys will be waiting. Begin a marvelous walk in this pristine Maasai land. The track takes you part way around the rim of the crater through open woodland and acacia forests. To your right are the remarkably spectacular views of the crater floor below, and to your left are the endless plains of the Serengeti. A very simple camp is set in a remote location where one of the important rivers off the highland volcanoes enters the crater.
After an early breakfast camp is packed up and the morning trek continues along the crater rim traversing the Olmoti slopes. The trail leaves the rain forest and cuts through grassland and open woodlands inhabited by local Maasai. In the late afternoon we reach a vehicle track which winds out of Ngorongoro crater towards Empakai crater.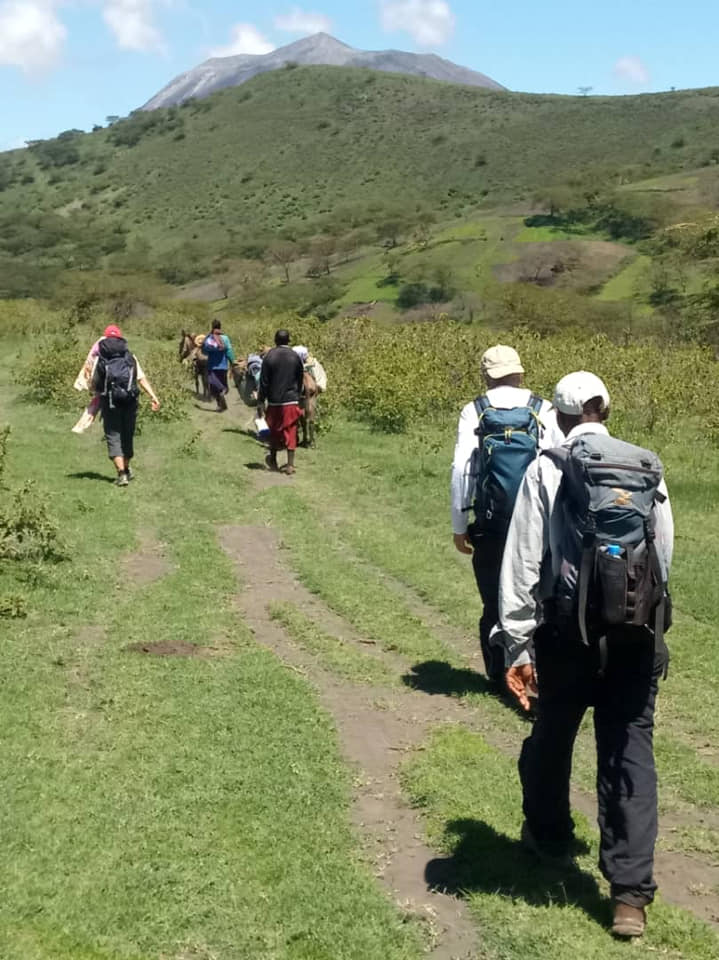 There are also options to trek in Empakai crater floor. This unique hundred-square mile wildlife paradise has a greater density of wildlife than sensibly any other protected wilderness in Africa. It's the last place to see relatively easily free-ranging black rhino. There are numerous lions, and large families of buffalo. The plains gazelle seem inestimable. The crater provides a scenic wonderland famed by its central lake and many shore birds including at times large numbers of flamingo.
The best time to do the Migration walking safaris is during the moths of December to March , this safaris is combined with the Crater Highland Walking Safari , Climbing the Mountain of the Maasai Gods (Mt. Oldonyo Lengai )
Walking Safari is combined with safaris as well visiting : Tarangire National Park , Lake Manyara National Park, Ngorongoro Crater , Empakai Crater , Lake Natron , Ndutu Woodlands , Serengeti National Park this safari is mixed with Dome tents/mixed with Lodge or Tented camps according to your budget.
Note: If you go through on the itineraries link page you will find a different itinerary of the walking safari and we will tailor make your safari according to your wish including the walking safari!