Lemosho Route:
The Lemosho route is an unspoilt, remote, little used and beautiful way up to the Shira Plateau. The route is one of the few where groups may be accompanied on the first day by an armed ranger, as the forests around the Lemosho Glades are inhabited by buffalo, elephant and other wildlife. The minimum duration for the Lemosho route is 6 days, however we strongly recommend hiking the route in 7 days. The additional 7th day will give your body more time to acclimatize, reducing the effects of altitude sickness and give you more time to rest before attempting the summit.
Arrival: You will meet and greet with one of our office representatives at Kilimanjaro or Arusha Airport or from the shuttle bus shuttle terminal and he will drive to the Lodge/Hotel where your safari start and stays with bed & breakfast.
Day 1: Mti Mkubwa Camp:
Morning transfer to the west of Mount Kilimanjaro, after completing the necessary registration formalities at Londorossi National Park Gate, we will drive through varied farmland with open views over the plains to reach the Lemosho Route road head. We often have our lunch in the glades before starting to walk. It is an easy day of walking up a small path through beautiful and lush forest. This area has a variety of wildlife including African Buffalo. Stay overnight at Mti Mkubwa Camp (8,700 ft). It takes about 2–3 hours walking.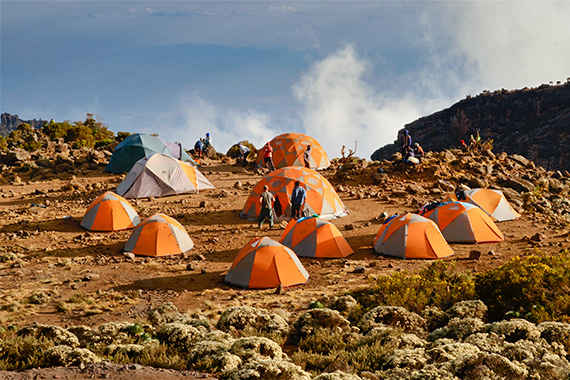 Day 2: Shira One Campsite:
After breakfast, we soon leave the forest behind and enter the moorland zone of Giant Heather. The trail climbs steadily with wide views to reach the rim of the Shira Plateau. There tangible sense of the wilderness especially if afternoon mists come in. You will camp in the center of the plateau at Shira One Campsite (11,000ft). It takes about 6–7 hours walking.
Day 3: Shira Two Camp:
After breakfast, proceed with an easy day to help acclimatization and to explore the volcanic rock formations of Shira Plateau. We walk to the summit of Shira Cathedral before reaching the next camp of Shira Hut (12,600 ft). This campsite has stunning views close to the glaciated dome of Kibo and the jagged rim of the Shira Plateau. The views from here of Mount floating on the clouds are simply unforgettable. It takes about 4 –5hours walking.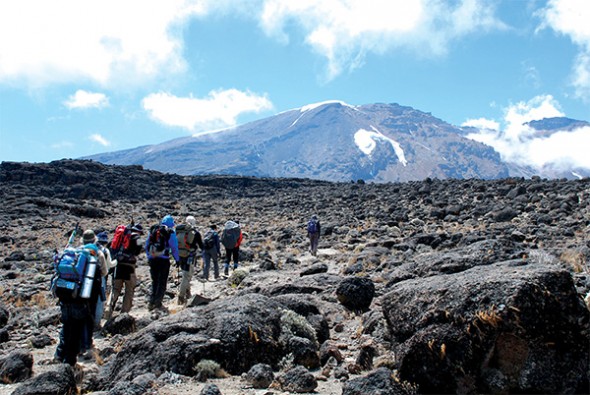 Day 4: Barranco Campsite:
After breakfast, you will start with a morning of gentle ascent and panoramic views, leaving the moorland plateau behind to walk on lava ridges beneath the glaciers of the Western Breach. After lunch near the Lava Tower (14,900 ft), we descent the bottom of the Barranco Valley to campsite at Barranco Camp (12,790 ft), sheltered by towering cliffs and with extensive views of the plains far bellow. It takes about 7–9 hours walking.
Day 5: Barafu Hut:
After breakfast, we follow an easy path on compacted scree with wide views that gains altitude unrelentingly to reach Barafu Hut (14,800 ft) for lunch. There is a short acclimatization walk to the plateau at the bottom of the southern valley. The remainder of the day is spent resting in preparation for the early morning final ascent. It takes about 3–5 hours walking.
Day 6: Summit – Mweka Campsite:
Wake up and then start our ascent by tonight around 1:00am so that we can be up on the crater rim by sunrise. The steep climb over loose volcanic scree has some well–graded Zig–Zags and a slow but steady pace will take us to Stella Point (18,800 ft), in about five or six hours. We will rest at Uhuru Peak for a short time in order to enjoy the sunrise over Mawenzi Peak. For those who are still feeling strong can make the two hours round trip from here along the crater rim to Uhuru Peak (19,345 ft), passing close to the spectacular glaciers and ice cliffs that still occupy most of the summit area. The descent to Barafu Camp is surprisingly fast and after some refreshment, we continue to descent to reach our final campsite, Mweka Camp (12,500 ft). It takes about 11 – 15 hours walking.
Day 7: Mweka Gate – Arusha Town:
After breakfast, proceed with a sustained descend on a well constructed path takes us through a lovely tropical forest alive with birdsong and boasting lush undergrowth with considerable botanical interest. Our route winds down to Mweka National Park gate (5,400 ft) and on through coffee and banana farms to Mweka Village where you will meet your driver and he will drive to Moshi town or Arusha and dropped at your Lodge/Hotel.
Price Includes:
All Park entry fees – All Park Camping fees/Hut fees
Pick up from the Airport
Guide/assistant guide/Porters
Overnight at the Hotels/Lodge/Tented Camps/Campsites according to the program
Chef/Meals as per the above itinerary
Park commission fees
Transport to and from the gate
Complimentary bottled drinking water 1.5 litter per person per day during on safari
1 night free Hotel accommodation on your arrival in Arusha with bed & breakfast
Tents/Sleeping mats/Sleeping bags.
Tents/Sleeping mats/Sleeping bags.
Price not includes:
International flights & Domestic flight
Fees for passport, visas, immunizations and insurance
Tips for staff such as guides/Chef & porters.
Expenses of personal nature (like souvenirs)
Climbing gears.