About Serengeti:
Size: 14,763 sq km (5,700 sq miles).
Location: 335km (208 miles) from Arusha, stretching north to Kenya and bordering Lake Victoria to the west.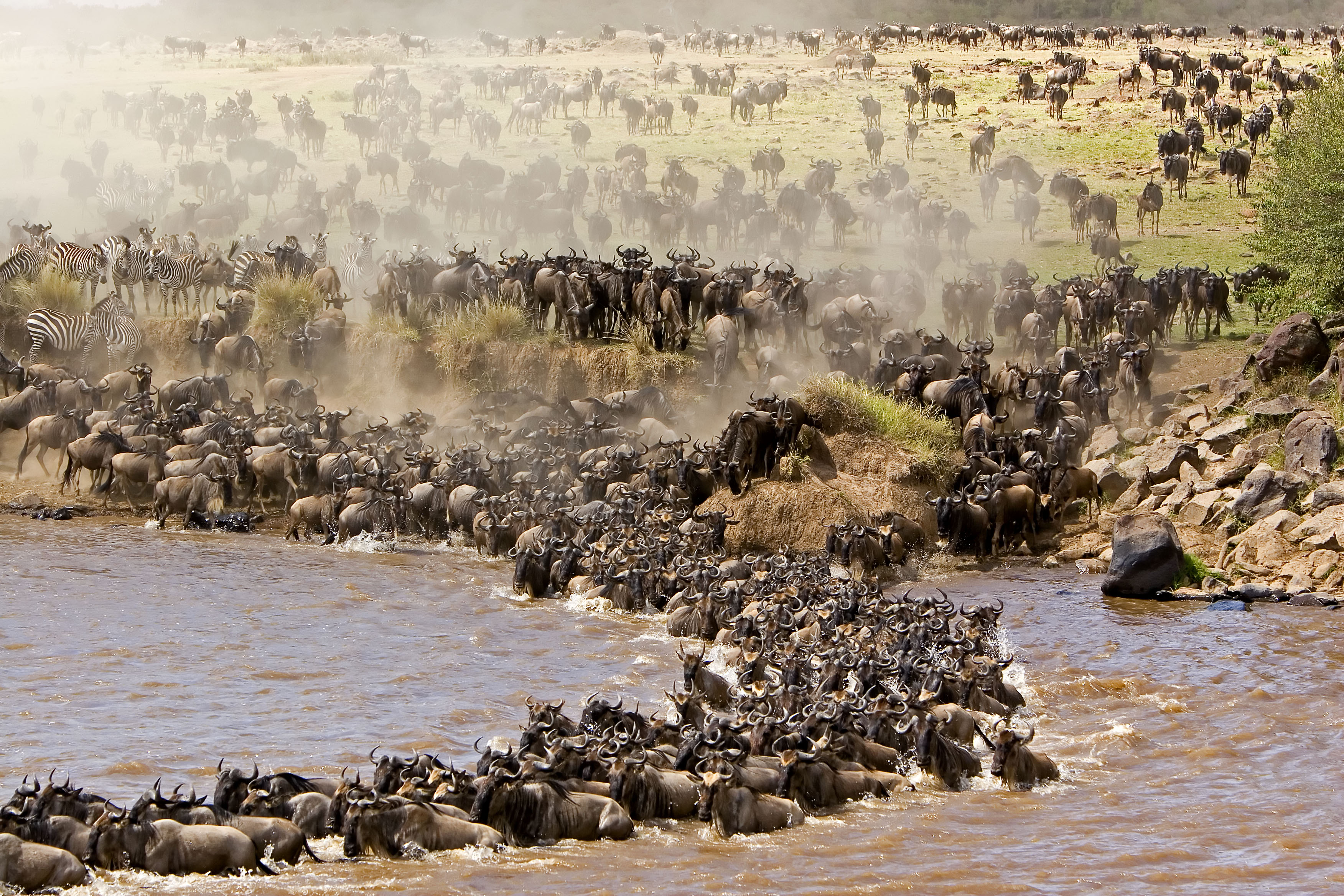 A million wildebeest… each one driven by the same ancient rhythm, fulfilling its instinctive role in the inescapable cycle of life: a frenzied three-week bout of territorial conquests and mating; survival of the fittest as 40km (25 mile) long columns plunge through crocodile-infested waters on the annual exodus north; replenishing the species in a brief population explosion that produces more than 8,000 calves daily before the 1,000 km (600 mile) pilgrimage begins again.
Tanzania's oldest and most popular National Park, also a world heritage site and recently proclaimed a 7th worldwide wonder, the Serengeti is famed for its annual migration, when some six million hooves pound the open plains, as more than 200,000 zebra and 300,000 Thomson's gazelle join the wildebeest's trek for fresh grazing. Yet even when the migration is quiet, the Serengeti offers arguably the most scintillating game-viewing in Africa: great herds of buffalo, smaller groups of elephant and giraffe, and thousands upon thousands of eland, Topi, kongoni, impala and Grant's gazelle.
The spectacle of predator versus prey dominates Tanzania's greatest park. Golden-manned lion prides feast on the abundance of plain grazers. Solitary leopards haunt the acacia trees lining the Seronera River, while a high density of cheetahs prowls the southeastern plains. Almost uniquely, all three African jackal species occur here, alongside the spotted hyena and a host of more elusive small predators, ranging from the insectivorous Aardwolf to the beautiful serve cat.
But there is more to Serengeti than large mammals. Gaudy agama lizards and rock hyraxes scuffle around the surfaces of the park's isolated granite kopjes. A full 100 varieties of dung beetle have been recorded, as have 500-plus bird species, ranging from the out sized ostrich and bizarre secretary bird of the open grassland, to the black eagles that soar effortlessly above the Lobo Hills.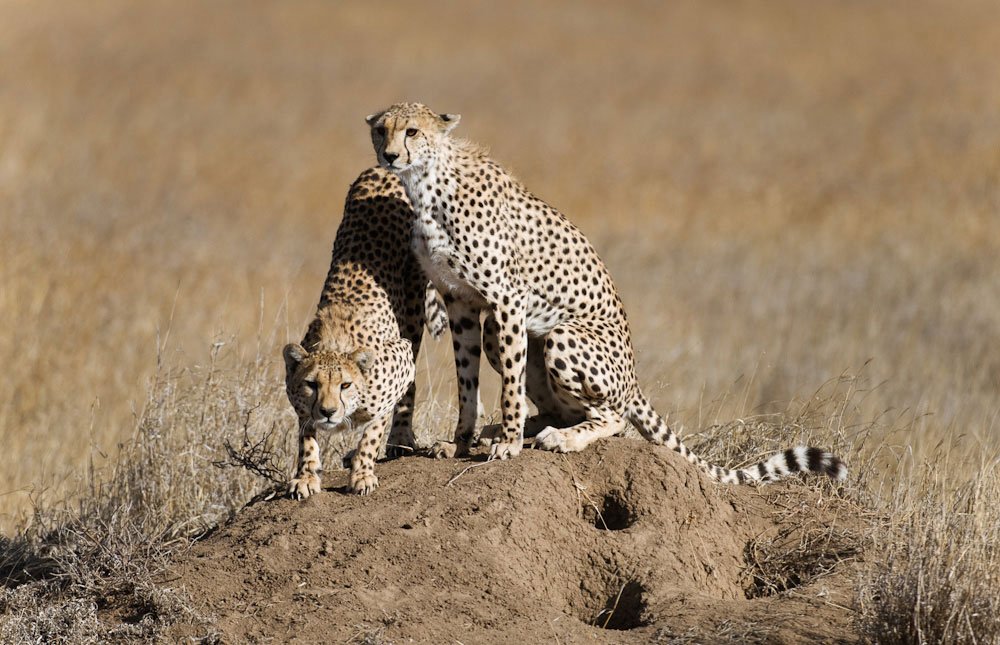 As enduring as the game-viewing is the liberating sense of space that characterizes the Serengeti Plains, stretching across sun burnt Savannah to a shimmering golden horizon at the end of the earth. Yet, after the rains, this golden expanse of grass is transformed into an endless green carpet flecked with wildflowers. And there are also wooded hills and towering termite mounds, rivers lined with fig trees and acacia woodland stained orange by dust. Popular the Serengeti might be, but it remains so vast that you may be the only human audience when a pride of lions masterminds a siege, focused unswerving on its next meal.
Balloon Safaris:
These popular excursions may be added to your Tanzania safari so long as you spend at least one night in the Serengeti National park. These options give an entirely new perspective from the ordinary wildlife view in safari vehicles.
What to do:
Hot air balloon safaris, walking safari, picnicking, game drives, bush lunch/dinner can be arranged with hotels/tour operators.  Maasai rock paintings and musical rocks. Visit neighboring Ngorongoro Crater, Olduvai Gorge, Ol Doinyo Lengai volcano and Lake Natron's flamingos.
Pros and Cons
The annual wildebeest migration (Late January to August)
Top wildlife viewing all year round
Endless plains feel like authentic Africa
Superb for spotting predators
Excellent mid-range and luxury lodges
Hot air balloon safaris
The Seronera area gets crowded during peak season (June and July and October to April)
The Wildebeest Migration
Every year, over 2.5 million wildebeest and zebra migrate from the Serengeti to the Masai Mara Reserve in Kenya. If you're there at the right time, you can spot herds of wildebeest and zebra stretching to the horizon.
Wildlife
The Serengeti offers some of the best wildlife viewing in Africa. All the major safari animals occur in great numbers. Cheetahs and four of the Big 5 are easily seen, but rhino sightings are rare and only black rhinos are present.
Scenery
Serengeti's scenery is renowned for its grassland plains in the southeast. The northern part is more hilly and rocky. To the west, valleys, rivers and forest can be found. The scenery is stunning and feels like untamed wilderness.