Marangu Route:
The Marangu route is one of the most popular routes to the summit of Kilimanjaro. This could partly be as a result of the fact that the Marangu is the least expensive route, but more so, perhaps the fact that it is possible to do the Marangu route in 5 days, thereby getting to the summit one day earlier compared to the Machame route. This is not always the best way, due to a shorter acclimatization period.
The Marangu route does however offer you the option of spending an extra acclimatization day on the mountain. This extends the route into a 6-day trek, greatly increasing your chances of success. Shared hut accommodation on the Marangu route forms one of the main differences, compared to the other routes. It offers you the relative luxury of being able to sleep in huts along the entire route. Mineral water, soft drinks, chocolates and beers are also sold at all the camps on this route. All your equipment and supplies are pottered and a cook prepares all your meals.
Arrival: You will meet and greet with one of our office representatives at Kilimanjaro or Arusha Airport or from the shuttle bus shuttle terminal and he will drive to the Lodge/Hotel where your safari start and stays with bed & breakfast.
Day 1: Arusha – Marangu Gate – Mandara Hut:
You will be picked up from your Lodge/Hotel at 8:00am and transfers to the National Park Gate (1,830 m) lies at the edge of Marangu, which is an attractive village with many small coffee and banana plantations. After completing the entrance formalities, we climb up through attractive and unspoilt forest to reach the clearing containing Mandara Hut (2,700 m.), a group of comfortable 'A' frame wooden huts. The largest cabin has a downstairs dining area and an upstairs dormitory and mattresses. Smaller huts sleep eight persons. The total capacity is sixty persons. Water is piped onto site from a spring above and there are flush toilets behind the main cabin. The volcanic remains of Maundi Crater are nearby and make a good afternoon excursion. An alternative is to rest and enjoy the beautiful forest. There is a rich bird-life at the huts and monkeys are often seen as well. It takes about 3–5 hours walk.
Day 2: Mandara Hut – Horombo Hut:
The first part of the walk is a steep ascent through the forest, but the path soon opens out into grassy moorland and in clear weather, there are good views of Kibo and Mawenzi peaks. We climb steadily through the moorland zone, containing giant heather's and occasional stands of groundless, to eventually reach the hut complex at Horombo (3,720 m.). The buildings here are similar to Mandara Hut, but total capacity is one hundred and twenty persons. Water is piped from the stream behind the huts. There are platform toilets south east of the main hut, about eighty meters down the slope and flush toilets have been built within the complex of small huts. Sunrises and sunsets here are often spectacular and the site is close to the glaciated dome of Kibo. There is a real sense of being above the clouds here. It takes about 4–6 hours walk.
Day 3: Horombo Hut – Kibo Hut:
We climb very gradually towards the lunar desert of the Saddle between Mawenzi and Kibo. The terrain changes to scree and there is a palpable sense of high altitude wilderness. We usually reach Kibo Hut (4,700 m.) at the bottom of the crater wall by midday. Kibo is a stone-built block house with a small dining area and a number of dormitory rooms leading off a main corridor. There are bunk beds and mattresses for about sixty people. There is no water here so one has to bring an ample supply from the 'last water' supply above Horombo Hut. Platform toilets are behind the hut. The remainder of the day is spent resting and eating in preparation for the final climb before a very early night. It takes about 4–5 hours walk.
Day 4: Kibo  – Uhuru Peak – Horombo Hut:
We will start our ascent by torchlight at about 1:00am, aiming to be up at Gillman's Point by sunrise. The initial climb is steep over loose volcanic scree, but there are some well-graded Zig–Zags and a slow but steady pace will have us up to Gillman's (5,685 m.) in about five or six hours. We will rest there and spend some time taking in the sunrise. For those who are still feeling strong can make the three hour round trip from here along the crater rim to Uhuru Peak (5,896 m.), passing close to the spectacular glaciers that still occupy most of the summit area. The descent is surprisingly fast and we return to Horombo for the night. It takes about11–15 hours walk.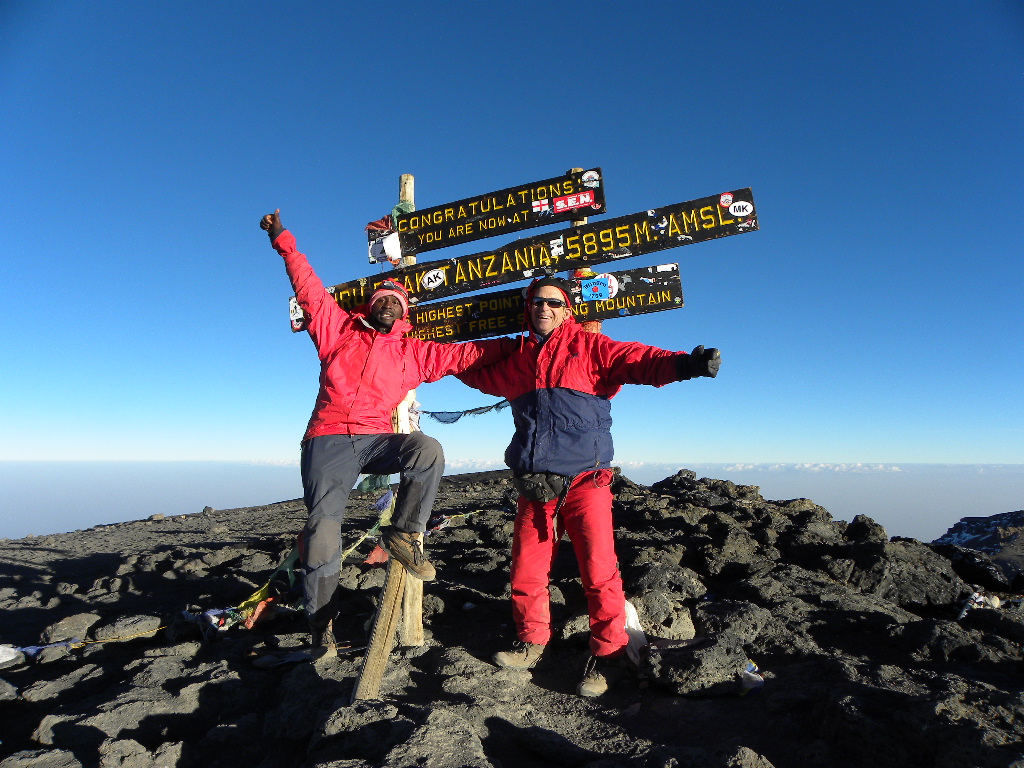 Day 5: Horombo Hut – Marangu Gate Arusha Town:
After breakfast, a steady descent takes you down through moorland to Mandara Hut (8,900 ft). We then continue descending through lovely lush forest on a good path to the Kilimanjaro National Park Gate at Marangu (6,000 ft) where you will meet your driver and he will drive to Moshi or Arusha town and drop off at your Lodge/Hotel.
Note: You can add an extra day for acclimatization at Horombo Hut in order to make six days climbing!
Price Includes:
All Park entry fees – Rescue fees/Hut fees
Pick up from the Airport
Guide/assistant guide/Porters
Overnight at the Hotels/Lodge/Tented Camps/Campsites according to the program
Chef/Meals as per the above itinerary
Park commission fees
Transport to and from the gate
Complimentary bottled drinking water 1.5 litter per person per day during on safari
1 night free Hotel accommodation on your arrival in Arusha with bed & breakfast
Sleeping mats/Sleeping bags.
Price not includes:
International flights & Domestic flight
Fees for passport, visas, immunizations and insurance
Tips for staff such as guides/Chef & porters.
Expenses of personal nature (like souvenirs)
Climbing gears.